Introducing the new Student Leadership Team
One of the many opportunities for personal development in the Sixth Form at Forest is to lead the rest of the School as part of our Student Leadership Team. Students apply for their positions by undertaking a rigorous application process which includes interviews and 150-word submissions from each short-listed candidate where they introduce themselves and explain some of their ideas on what they would do if they were appointed.
Reading the candidates' submissions is always inspiring and we are delighted to announce the appointment of the Student Leadership Team for academic year 2021-2022 as follows:
Head Girl – Cydney Stedman
Deputy Head Girls – Petra Webb and Bahar Shahkamrani
Head Boy – Louis Lodder
Deputy Head Boys – Tommy Dunn and Uriel Ogunlaja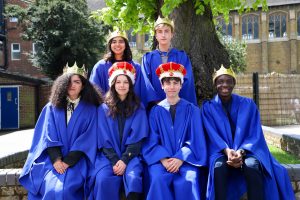 I am so grateful for the opportunity to work alongside the rest of the leadership team to represent the pupils, and I am looking forward to what will hopefully be a year of some sort of normality!