Increasing exposure to Classics
Earlier this term a group of Forest pupils who study Classical Greek were able to share a performance of Euripides' play Orestes, produced by the Oxford Playhouse.  The event featured contributions from famous Classicists Edith Hall and comedian Natalie Haynes, presenter of the popular Stand Up for the Classics programme on BBC Radio 4 and – equally importantly – pepperoni pizza.
The play was very interesting and even included a scene spoken in Ancient Greek. Overall, the experience was really fun and was lovely to be able to go on a 'trip
They had a wonderful evening, and they will have come away having watched something truly magnificent – an opportunity that most will probably never get again. It truly supplemented their learning in the classroom.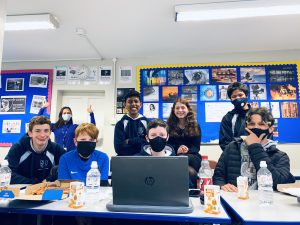 In addition to providing opportunities for Forest's own keen Classicists to further explore the subject, Mrs Merali-Smith is also committed to widening access to Classics more broadly and not only runs her own summer school but has also been asked to work on UCL's summer school which will be taking place 20th July through to 29th July for a class of 11 adults.
Meanwhile, Mrs Merali-Smith has received a personal letter from world-renowned Classicist Mary Beard who is passionate about increasing diversity in Classics teaching and has recently pledged a fund of £80,000 to support two classics students from under-represented groups.  The fund will cover the £10,000-a-year living costs of two undergraduates, who will be required to come both from a minority ethnic group and low income background, and will cover the duration of a four-year degree.
"It's a retirement present from me," said Beard, a Classics professor who has taught at Cambridge for almost 40 years.
We are very proud of the work Mrs Merali-Smith is doing to increase access and exposure to Classics and her summer school places are now almost full, with most students attending from state schools, helped by a contribution of £200 from Mary Beard to support this important initiative.